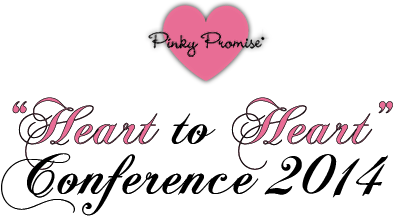 "I am so thrilled about planning the Second Annual Heart-to-Heart Pinky Promise Conference! If you came to the conference last year, you know that the first conference was truly life-changing. From the powerful word to the worship music, it was a weekend of the Lord wrecking & changing us. Do whatever it takes, but make plans to be here in Atlanta July 24-27th 2014! It's going to be a conference you don't want to miss! Whether single or married, we have you covered! From Girl Talk, to Quiet Time, Zumba, a Marriage and a Singles breakout sessions, getting to know sisters from other Pinky Promise Groups, A Clothing Swap, Workshops, Powerful Nightly Sessions and so much more! Pack your bags and bring an open heart– because these three days in July will truly be life-changing!"
Love,
Heather Lindsey

Pinky Promise is a promise to honor God with your body and your life. To refuse to give your body to anyone that hasn't paid the price for you called marriage. It's a promise to stay pure before God in EVERY single way. It's a promise that says, I won't test the boundaries in my relationship to see how far I can push it sexually–but instead–I want God to have my heart.
It's a promise to God that you will honor your marriage convenant. It's saying that I promise not to step outside of my marriage, cheat on my spouse and that I'll work through every issue.
To join the network of women and learn more about Pinky Promise, click here.

Powerful Nightly Sessions!
Special Guest Performance by: Jackie Hill!
Budget Shopping, Natural Hair, & Health Seminars!
Single's and Marriage breakout sessions!
Goodies from multiple vendors!
Zumba Fitness!
Clothing Swap!
Men's Panel!
Quiet Time!